Explore innovative spring cleaning advertising ideas that can effectively engage your customers and boost your sales.
As the snow melts and the flowers bloom, the concept of spring cleaning isn't just for your home – it's also a refreshing strategy for your advertising efforts.
This article provides insightful and creative spring cleaning advertising ideas that can help revitalize your brand's marketing strategy.
From re-evaluating your target audience to sprucing up your social media presence, you'll find a comprehensive guide to dust off the winter blues and inject some fresh energy into your campaigns.
So, if you're ready to sweep away the old and usher in the new, this article is your go-to resource for all the details.
Fresh Home, Fresh Start – Spring Cleaning Services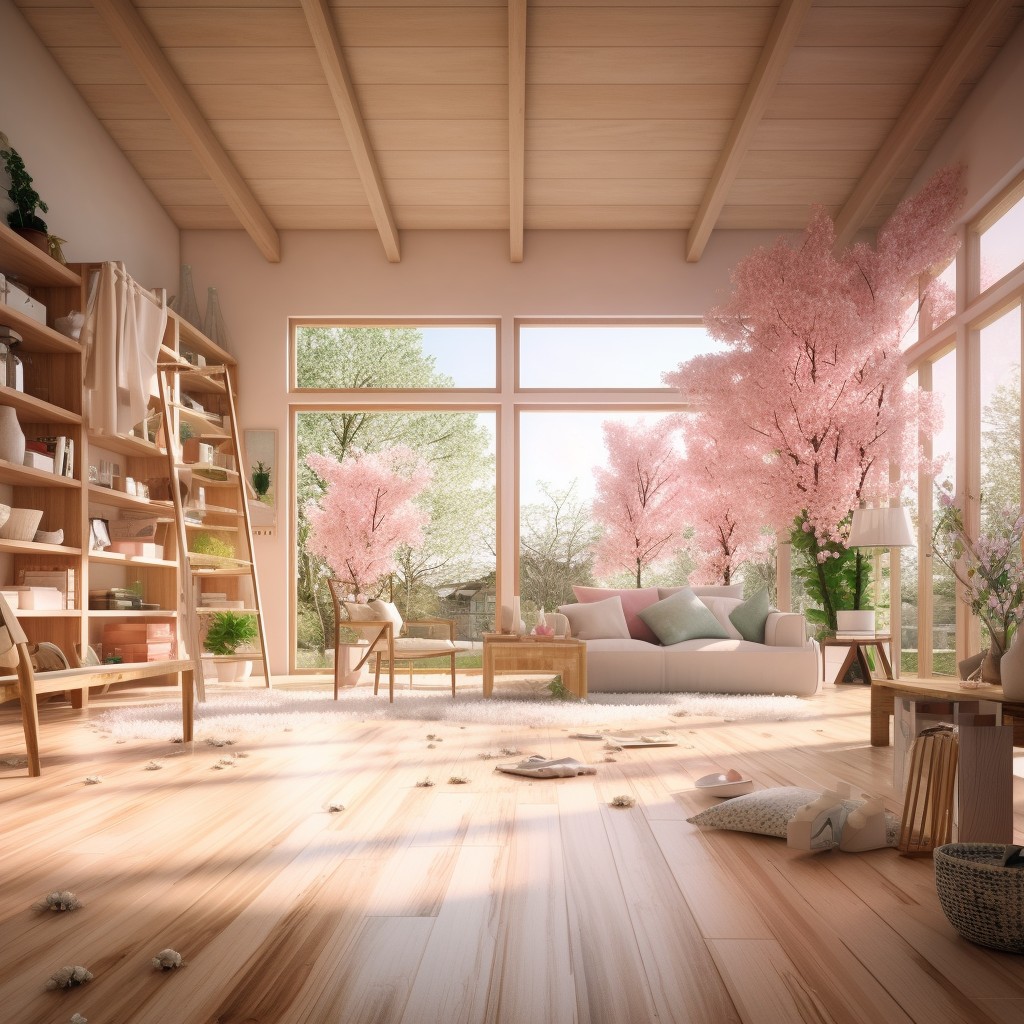 Having an organized and clean living space contributes significantly to your peace of mind. In comes the "Fresh Start" service, named fittingly for the transformative power it holds. With meticulous attention to detail, our professional cleaners dive deep into every corner, decluttering and refreshing your home. From dusting shelves to disinfecting bathrooms, no place goes untouched.
1. Our seasoned cleaning experts are just a call away, ready to restore harmony in your home.
2. We believe in using environmentally friendly yet powerful cleaning agents that don't compromise on hygiene.
3. Customization is key. We tailor the cleaning process to suit the specific requirements of your home.
4. Our schedule is flexible and can accommodate your needs, offering both one-time deep cleaning or regular maintenance.
5. Competitively priced, our "Fresh Start" service is an investment towards your wellbeing, freeing your time for other relaxing and rejuvenating spring activities.
Embrace the season of renewal with a lovely, clean home – an oasis to usher in freshness and positivity as you bid farewell to winter blues.
Save Time This Spring – Leave Cleaning to Us
Imagine dedicating the beautiful spring days to scrubbing carpets or dusting off shelves. Sounds dull right? But, nobody likes living amidst clutter and dust! That's where we come in.
Comprehensive Services: Our skilled team promises a spotless home, taking care of everything from drapes to floor corners, without you lifting a finger.
Tailored Solutions: Cleaning needs can vary, and we offer customized plans to suit individual requirements.
Competitive Pricing: Our competitive pricing guarantees you get more time for enjoyment, without breaking the bank.
Quality and Safety: We use eco-friendly, safe cleaning products and techniques, ensuring top-notch quality without compromising your health.
Convenience: With flexible scheduling options, we adapt to your busy life.
We're ready to do the scrubbing and vacuuming for you, so you can spend more time enjoying the spring weather and less time worrying about house chores.
It's Time for Spring Cleaning Madness!
Spring Cleaning Madness encapsulates the frenzied yet satisfying process of a thorough, seasonal household cleanse. At the heart of it is the goal of revitalization and the shedding of winter's often overbearing weight.
1. Spontaneity: Cleaning is no longer routine, it injects fun and exhilarating challenges into the mix. Who says you can't turn dusting into a dance-off?
2. Rethinking Spaces: This is a perfect time to reimagine your living spaces. Move furniture, change up decorations—a fresh perspective often invites innovation.
3. Health and Wellness: A clean home contributes to mental clarity and reduced allergy symptoms. It's an opportunity to bolster health and overall wellbeing.
4. Decluttering: Less is often more. Let go of items that no longer serve a purpose, creating new space for growth and fresh memories.
5. Reconnection: Spring cleaning can be a shared activity. It draws families together and can provide a sense of shared accomplishment.
Spring Cleaning Madness seeks to motivate you, transforming the mundane into exhilaration and breathable living spaces.
Special Discounts On Our Thorough Spring Cleaning Packages
Unveiling a range of comprehensive and wholesome cleaning packages designed specifically for your spring cleaning needs. From deep carpet cleaning to meticulous dusting and sanitizing of every surface, we've got it all included. The packages are customizable, giving you the freedom to choose what fits your home and budget best.
The best part? These packages don't shake your spring budget! Exclusive seasonal discounts make our cleaning services more affordable than ever before. Whether you have a cozy apartment or a sprawling villa, we've structured our pricing to ensure you get maximum value for your money.
Make your spring cleaning hassle-free with our expert and dedicated team, ready to transform your living spaces. So, why wait? Enjoy a sparkling clean home without breaking the bank!
Clean House, Clear Mind – Spring Cleaning Promo
This year's promotion allows you to restore tranquility and order not just to your space, but your mental environment as well. A cluttered space can lead to stress and reduced productivity. Therefore, taking advantage of our spring cleaning promo is akin to giving yourself a fresh start.
1. Our trained professionals are thorough and efficient, ensuring a detailed cleanse of every corner.
2. We use environmentally-friendly, safe products so that the burden of chemical contaminants is lightened.
3. As part of the promotion, there's an option for custom cleaning plans to cater to specific needs.
4. We extend hours flexibility, which means you can schedule cleaning services at your convenience.
5. As we work through the cleansing process, you can focus on things more important to you, without any worries.
This season, let's eliminate out the distractions in your home and let cleanliness pave the way for a clear, peaceful mind. While our team frees your home from the physical demands of spring cleaning, you can use the time to reset, plan, and settle back into a cleaner, more organized environment.
'Spruce Up for Spring' Discounts
Embracing the spirit of new beginnings, businesses often offer generous markdowns to help you revitalize your home environment. These discounts tend to include a range of services, allowing for customizable cleaning sessions to meet various cleaning requirements.
Key points of this offering:
Multi-Service Bundles: Packages typically encompass numerous areas of the home, like kitchen deep-cleaning, bathroom sanitation, carpet vacuuming, or even window washing.
Equipment Included: The price often involves supplying high-end, professional cleaning products and tools, providing a much deeper and thorough clean than standard home tools.
Customized Packages: Discounts usually extend to individually tailored packages to suit specific cleaning needs, accommodating households of varying sizes and cleaning intensity.
Bonus Services: Many companies also offer additional spring services at discounted rates, such as exterior pressure washing or garden tidy-ups.
Time-Saving: These discounted services present valuable opportunities for a thorough spring clean without putting the strain on your own time – ideal for busy modern lifestyles.
Spring Into Clean – Professional Services At Discounted Rates
This particular promotional strategy focuses on presenting spring cleaning as a positive activity that brings both refreshing change and ample savings. The idea is rooted in two primary concepts:
Facilitating Fresh Start: Capitalizing on the widespread perspective of spring as a season of reinvention and renewal, it helps homeowners reinvent their living spaces without breaking a sweat.
Value for Money: With clutter being cleared away at reduced costs, customers can experience an upgraded level of cleanliness without stretching their budgets.
This method also incorporates elements of visual and emotional appeal:
Eye-Catching Promotions: Bright, spring-themed graphics and slogans effectively capture the target audience's attention, igniting the desire for cleanliness and change.
Emotional Connection: By linking personal growth and transformation to a tidy home, the campaign strikes an emotional chord, adding perceived value to the services offered.
In implementing these tactics, the leap from winter's end into refreshing spring becomes a breeze for both new and existing customers.
The Ultimate Spring Cleaning Sale for Busy Homeowners
Our exclusive seasonal sale caters, in particular, to homeowners with demanding schedules. We understand that juggling professional, personal, and cleaning tasks can be strenuous. So, we have the ideal solutions tailor-made to meet your needs.
1. Flexible Booking: Arranging cleaning appointments that fit into your jam-packed calendar is now effortless. You can reschedule with minimum fuss, ensuring minimal disruptions to your routines.
2. Comprehensive Services: From deep dusting to power washing outdoor areas, we cover a wide range of cleaning tasks. Our expert teams handle every type of cleaning chore, allowing you to focus on more important matters.
3. Efficient Operations: Our staff undergo rigorous training to carry out jobs swiftly without compromising on quality. Expect top-notch services done right the first time, saving you both time and energy.
4. Eco-Friendly Solutions: We employ green cleaning products, efficient tools, and energy-saving cleaning techniques. While we spruce up your home for spring, you can be satisfied knowing you're contributing to environmental preservation.
5. Budget-friendly Prices: During the sale, our premium packages come at slashed prices. Regardless of budget constraints, transform your house into a clean and inviting abode this season. Plus, early birds enjoy additional benefits!
Remember, with us, spring cleaning need not be another chore you dread. Infuse freshness into your residence with us, while you continue to excel in your professional endeavors.
Spring Cleaning: We've Got You Covered
Offering a variety of options tailored to your specific needs, our team of seasoned professionals is on standby, providing deep-clean services for every room in your house. Using eco-friendly supplies and state-of-the-art equipment helps us ensure your home is sparkling without harming the environment or leaving behind harsh chemical residues. From kitchens and bathrooms to living rooms and bedrooms, no corner is left untouched.
Our services are designed with efficiency in mind, aiming to complete jobs while minimizing disruption to your daily routine. We clean and sanitize surfaces and high-touch points, tackle long-neglected areas, wash windows inside and out and dust from the highest point downwards. The package also comes with carpet and upholstery cleaning.
To ensure absolute convenience, we offer flexible scheduling. You can choose a one-day, full-service spring cleaning or split services over multiple days. We're ready to work around your schedule, whether you prefer weekday, weekend, daytime, or evening sessions.
Remember that these dedicated services are both cost-effective and time-saving. Enlist our help to eliminate the hassle and stress commonly associated with spring cleaning.
Beat the Dust – Early Bird Spring Cleaning Offers
The notion behind 'Early Bird' offers is straightforward. These are discounts aimed at encouraging customers to start their Spring cleaning earlier, before the rush begins. Several key merits underpin this concept:
1. Urgency: These offers are timely, capitalizing on human nature to postpone admittedly arduous tasks – such as Spring cleaning. The idea? A great deal now beats paying full price later.
2. Inventory Management: For cleaning companies, these deals encourage a steadier stream of business, rather than a Springtime 'flood'. That helps smooth demand, allowing better service and workforce planning.
3. Customer Satisfaction: Bargain-hunters rejoice! Mounting work and fretting about cleaning are relieved by one quick decision.
4. Wider Reach: Promotions can entice potential new customers. Once they experience superior service, they could become regular, often higher-margin clientele.
5. Competitive Advantage: Early Bird offers can set a company apart in a saturated market, giving weight to the adage about the early bird catching the worm.
Say Goodbye to Winter Grime With Our Spring Cleaning Specials
As seasons transition, so does the accumulated dirt and clutter in our homes. Winter leaves behind telltale signs in the form of unwelcome grime on windows, walkways, and oft-unused corners of the room. This is an advantageous time to introduce our tailored spring cleaning packages, designed to cater to these transitions swiftly and efficiently.
Our specials include:
1. Deep window cleaning: Designed to remove grime and smudges, leaving you with sparkling view to the outdoors.
2. Comprehensive walkway scrubbing: Perfect for eliminating all traces of mud and grime tracked in during winter months.
3. Corner cobweb removal: Say goodbye to neglected corners laden with dust and cobwebs.
4. Heavy-duty carpet cleaning: Ideal for deep cleaning of carpets, removing all dirt and allergens accumulated during winter.
5. General house dusting: Efficiently combats dust build-up on surfaces and furniture to restore the freshness of your space.
Consider these as your secret weapon against winter's remnants, aimed at restoring the sparkle to your home just in time for the brightness of spring.
Enjoy a Refreshed Home – Exclusive Spring Cleaning Deals
Taking advantage of unique offers, our exclusive deals on spring cleaning will give your home a total rejuvenation without putting a strain on your budget.
Enjoy deep discounts on full-house cleaning: Get every corner of your home squeaky clean without the usual cost. From living spaces to bedrooms, kitchens, and bathrooms, we ensure every area of your home sparkles.
Unbeatable rates on specialized services: Whether it's carpet cleaning, window washing, or upholstery sanitation, our discounted deals cover a wide range of specialized cleaning routines.
Customized cleaning based on your needs: Everyone's home is unique, and so are our cleaning services. You get to pick and choose the services most critical to you, ensuring a tailored cleaning experience.
The use of eco-friendly cleaning solutions: Not only do we prioritize the cleanliness of your home, but we also ensure the safety of the environment. All our cleaning supplies are non-toxic and biodegradable.
Remember, a refreshed home is just a phone call away with our incredible deals on cleaning services. Enjoy clean living spaces and save big this Spring!
The Perfect Spring Cleaning Solution for New Beginnings
This approach embraces the multifaceted nature of spring cleaning by respecting not just the physical, but also the psychological aspects of the process. A clean space can lead to a clear and focused mind, making way for creativity and renewed energy to flow freely in your home.
Let's explore these concepts:
Decluttering: A clutter-free environment increases productivity and decreases stress levels. Remove any items that don't 'spark joy,' as organizer Marie Kondo would say.
Deep-cleaning: This involves scrubbing every nook and cranny of your home, from the kitchen and bathroom tiles to the baseboards and window seals. This process eliminates dust, allergens, and potential germs that may impact your health.
Organizing: Everything in your house should have a designated spot. This provides an orderly atmosphere that enables easy locating of items when necessary, reducing time wasted searching.
Refreshing: Consider adding a touch of freshness to your living space. This can be through introducing indoor plants, applying essential oils, or using air fresheners.
Green-cleaning: Use environmentally friendly cleaning products to not just ensure a safe and clean living space, but also to do your part in taking care of the environment.
Implementing these aspects to your cleaning routine can facilitate a fresh start and a healthier, happier lifestyle.
A Deep Clean to Welcome Spring – Affordable Options Available
Following a comprehensive deep cleaning routine can yield a welcoming, rejuvenating environment that embodies spring's spirit of renewal. Herein lies the beauty of this option – it goes beyond everyday surface cleaning.
Let's delve into the specifics:
1. Reach Every Nook and Cranny: This service involves meticulous dusting, vacuuming, and scrubbing to ensure every corner sparkles.
2. Tailored to Your Home: Whether you reside in a sprawling mansion or a cozy apartment, the service is custom-tailored to address your dwelling's unique needs.
3. Result-Oriented Service: It's not just about the process, but also the results. You're guaranteed a spotless home, ready for the spring season.
4. Cost-Effective: Although it's thorough, this cleaning package offers excellent value for money. You get professional-level cleanliness without draining your wallet. Opting for such services regularly can actually save costs in the long run.
Remember, without burdening yourself with time-consuming chores, you can embrace the freshness of spring season fully. Enjoy the onset of longer days and warmer weather in a flawlessly clean living space.
Get a Jumpstart On Spring Cleaning With Our March Madness Deals
March Madness isn't just for basketball. Here's an opportunity to get ahead of the general spring cleaning rush. Whether you're maintaining a commercial property or a cozy family home, our packages offer an efficient solution for your needs.
Key features of these deals include:
Early access to our skilled cleaning crew, getting your property ready for the warm season ahead.
A thorough cleaning that goes beyond routine dusting and mopping. Consider this a deep clean from top to bottom.
Picturesque windows, free of winter's smudge and grim, providing brighter and more airy spaces.
Pest prevention by cleaning out potential nesting areas, making your home less inviting for pests as spring arrives.
Held annually, our March Madness deals provide an opportunity to plan ahead, demonstrating value across the board.
With these features, you can enjoy your spring without the concern of starting it in an untidy environment.
Ready, Set, Refresh! – Spring Cleaning Event
Fulfilling the yearly tradition of tidying your living space can be a colossal task. Yet, imagine a team of professionals knocking at your door, ready to transform your home into a neat, refreshed area ushering in the new season! The thrill of this event is rooted in a seamless transition from the clutter of winter to the invigorating cleanliness of spring.
Here are some key elements of our event:
Comprehensive cleaning: This isn't about superficial tidying up. The team dives deep into corners, crevices, and all hidden spaces.
Fast services: Swift and efficient, our experts transform your home quickly without compromising on quality.
Affordable services: This event is tailored to provide top-tier services at wallet-friendly rates.
Environmentally friendly: All cleaning products used are eco-friendly and safe for you and your family.
Customizable options: Whether it's one room or an entire house, choose which areas you'd like us to focus on.
Bid adieu to the lingering chill of winter and embrace the freshness of spring, all while saving time, effort and money. Secure your slot today before they run out!
Limited Time Offer: Spring Cleaning Bonanza
The thrilling aspect of this deal is that it's transient, adding a sense of urgency. Jump on the chance to have your home sparkle, at significantly reduced rates.
This offering is all about value; it combines multiple cleaning services into one comprehensive package, making it an absolute steal.
To start, heavy-duty work such as carpet cleaning, window washing and pressure cleaning for areas like patios and driveways are included.
Inside the house, professionals will tackle every nook and cranny; from dusting and vacuuming to scrubbing bathrooms and kitchens, not a spot is left untouched.
Moreover, unique services such as upholstery cleaning and tile grout whitening are bundled in, ensuring not just clean, but rejuvenated spaces.
With limited slots available, this bonanza is your ticket to hassle-free, comprehensive spring cleaning, at a fraction of the regular price.
Don't miss out; the opportunity, much like dust, will be swept away before you know it!
Your Spring Cleaning Wishes: Fulfilled!
Certainly! You're in luck this season as our professional team is ready to tackle areas often overlooked in routine cleaning. We focus on window sills, light fixtures, ceiling fans, baseboards, behind appliances and other nooks often ignored.
See dust vanishing from upholstery, grime disappearing from tile grout, and toilets gleaming like never before. Our deep clean process also extends to the exterior, leaving your patio, driveway, and garage spotless.
You wish for a thoroughly clean home? Consider it done!
Spring Cleaning Done Right, Done Fast
Outsourcing your spring cleaning to professionals ensures a thorough job done within a short span of time. Here are a few points that make this choice lucrative:
1. Expertise and Efficiency: Professionals are trained and skilled at performing a thorough cleanup. They have the right tools and know the effective techniques to ensure your home is spick-and-span.
2. Time-saving: Professional cleaning services save you a significant amount of time, allowing you to focus on your daily chores or spend quality moments with your loved ones.
3. Detail-oriented: With an eye for detail, professionals get into the knick-knacks, ensuring a deep clean that covers areas you might skip or overlook.
4. Health-Friendly: Most professional services use eco-friendly solutions that are not just safe for your home environment but for the entire planet too.
5. Stress-free: With cleaning tasks handed over, you can simply relax and welcome spring in a refreshed and renewed living environment.
Leaning on experts opens up opportunities for you to embrace the new season without the fuss of cleaning. It embodies the essence of 'Spring Cleaning Done Right, Done Fast'.
Start Spring On a Clean Note – Unbeatable Offers Available Now
At this time of year, nothing beats the satisfaction that having a spotless home brings. For those who have a hard time squeezing cleaning into their busy schedules, our unbeatable discounts on deep-cleaning services are especially appealing.
1. Excellent Value for Money: With our deep discounts, we're ensuring premium services that won't burn a hole in your pocket. We believe extraordinary cleanliness should be available to everyone, not just a few.
2. Tailored Cleaning Plans: We understand that every home is unique. Therefore, our comprehensive cleaning packages can be customized. Whether it's dusting, vacuuming, mopping or scrubbing down kitchens and bathrooms, we'll focus on what's important to you.
3. Quality You Can Trust: Our professionals are trained to provide high-quality cleaning. They pay attention to the minute details that can make a huge difference in the overall cleanliness of your home.
4. Save Valuable Time: Instead of spending your precious time cleaning, you can use these hours for what truly matters. Your time's worth a lot more than cleaning chores.
So, why hesitate? Avail our unmatched spring cleaning offers and turn your home into a nest of freshness and cleanliness, setting the right tone for an amazing spring season!