Unleash the potential of your landscaping business with these innovative advertising ideas, designed to attract customers and elevate your brand in a competitive market.
Looking for creative and effective landscaping advertising ideas? You're in the right place. This article will delve into a variety of strategies, from traditional methods to digital marketing techniques, that can help your landscaping business grow.
We'll explore how to make the most of social media, create engaging content, leverage SEO, and utilize direct mail campaigns, among other tactics. Each idea is designed to help you attract new customers, retain existing ones, and stand out in a competitive market.
Stay tuned for a comprehensive guide that covers all the details.
Social Media Campaigns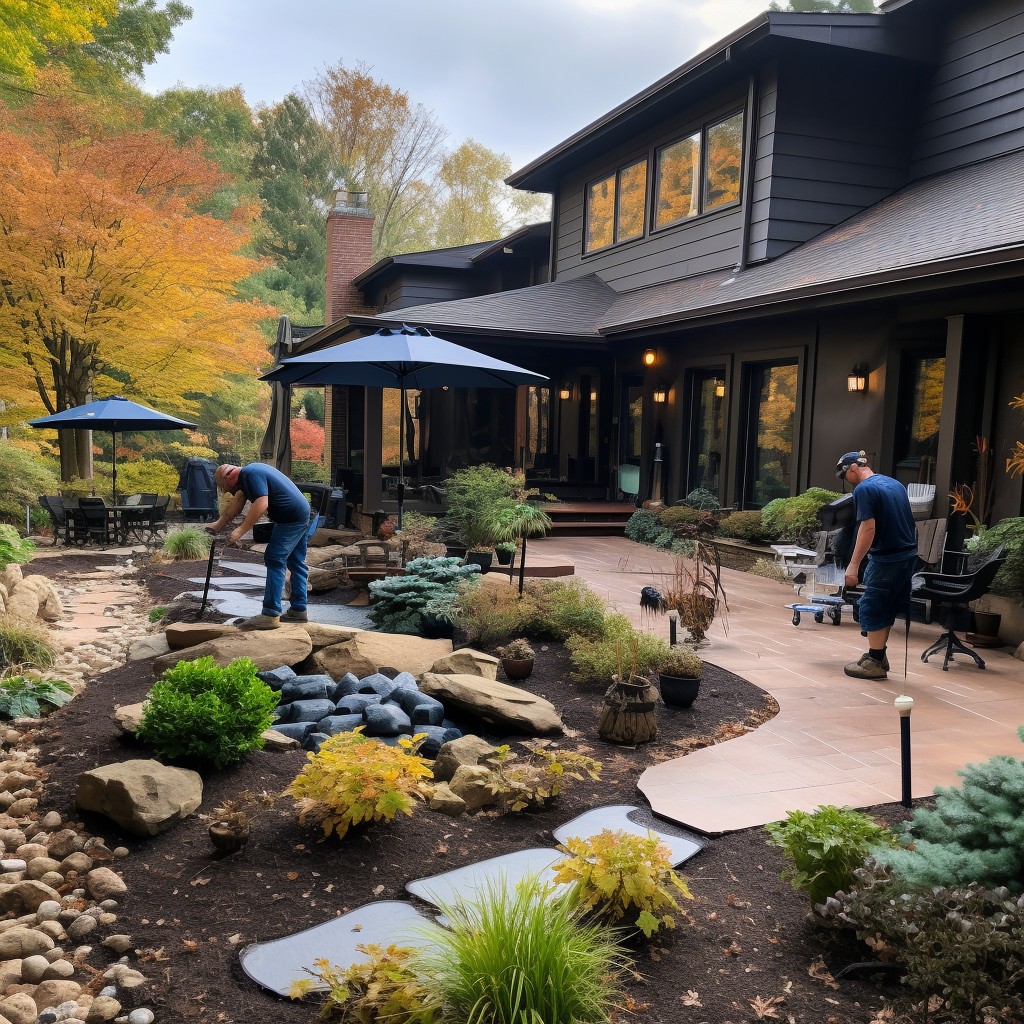 Harnessing the power of platforms such as Facebook, Instagram, and LinkedIn can effectively boost your landscaping business visibility. Regular, engaging posts showcasing your latest projects and services keep your brand at the forefront of your followers' minds.
Engage with your audience using well-crafted posts, rich in relevant hashtags, to extend your reach to potential clients.
Advertising on these platforms can target demographics likely to require your services, ensuring your advertising budget is spent efficiently. Use Instagram's visual layout to share stunning before-and-after transformations or beautifully landscaped spaces. Utilize Facebook's features to share detailed posts about your services, customer testimonials, and promotional offers. LinkedIn, meanwhile, is ideal for networking with other businesses and reaching out to commercial clients.
Live features on these sites can also be cleverly located to host Q&A sessions and virtual tours of your current projects. Additionally, incentivizing your followers to share your content can extend your network and lead to potential referrals.
Always ensure prompt response to comments and messages, maintain an active presence, and monitor your campaign success using in-app analytics. Do note, your social media handles should be clearly visible on all of your other advertisement materials.
Website Portfolio
To leverage the digital marketplace fully, your landscape business's internet presence shouldn't stop at mere social media presence. A dedicated website where you can showcase your completed landscaping projects is a strategic move. When potential clients browse these portfolios, they get insight into your service quality, style, and aesthetic — a virtual reference that can promote trust and engagement.
Here's how you can maximize this tool:
1. Regularly update your portfolio with high-quality, professionally taken photos. Detail is key. Make sure to capture the strengths of your work and showcase various projects to attract a diverse clientele.
2. Feature a range of landscaping projects. Show photos of small backyard renovations, expansive commercial jobs, and everything in between to illustrate the breadth of your capabilities.
3. Make it interactive. Consider adding a feature that allows website visitors to bookmark or save your images, creating a personalized idea board.
4. Include brief descriptions under each photo. What design problem were you solving? How does the final outcome reflect the client's desires or personality? This narrative can give potential clients a feel for how you approach your work.
5. Optimize your portfolio for search engines. Use accurate, descriptive titles and alt tags for your photos, helping you capture organic search traffic.
6. Always get permission. Respect client privacy, and be sure to get written permission before posting images of any property.
7. Instill a call to action. Encourage potential clients to contact you for more information or a consultation after viewing your portfolio.
This type of online portfolio can act as a powerful lead generator and credibility booster for your landscaping business.
Local Newspaper Ads
Advertising in local newspapers remains an effective way for landscaping businesses to reach a broad demographic within their community. It's essential, however, to produce ads with striking visuals portraying attractive landscaping projects.
Usually, homeowners looking to hire landscaping services get captivated by the potential aesthetic appeal of their homes or workplaces, making it more likely that they'll respond to ads with high-quality images.
Also, including a concise, powerful copy in the advert that communicates your services' unique selling proposition helps stand out. Offer incentives in these ads, like promotional discounts or free consultations, to foster a call to action.
When purchasing ad space, opt for high-visibility spots to ensure optimal reach. Lastly, timing is crucial – schedule your ads to run during vital home improvement periods, Spring or Fall, when homeowners typically carry out major landscape projects.
Direct Mail Flyers
Capitalizing on direct mail flyers gives businesses a chance to target a specific audience meticulously. The potential of achieving greater return of interest amplifies with the distribution of eye-catching and informatics leaflets.
Accurate Audience Targeting: Identify areas where properties are most likely needing your services. Narrow down to affluent or rapidly developing neighborhoods.
Showcasing Services: Highlight the range of services offered. Include high-quality images of past projects or quick sketches to represent potential transformations.
Seasonal Packages: Depict seasonal offers and deals. Let them know how they can benefit from acting right now or booking in advance for a future season.
Discounts & Promotions: Feature discounts or promotional offers for new customers or for those who recommend your services to a friend. This aspect not only attracts new customers but also promotes loyalty among existing ones.
Contact Information: Ensure to provide all necessary contact details – email, phone number, and website. Nothing frustrates a potential customer more than struggling to find how to get in touch.
Keep it Simple: While it's essential to be detailed, it's even more vital to maintain simplicity. The flyer shouldn't resemble a comprehensive brochure but should be decipherable at a glance.
Remember, a well-crafted direct mail flyer can make your landscaping business the talk of the town with the right strategy.
Attending Home and Garden Shows
Venturing beyond digital mediums, a face-to-face engagement with potential clients often yields remarkable results. Home and garden shows present an incredible opportunity for similar interaction, offering a platform to present your unique landscaping capabilities directly to a targeted audience.
Building a visually appealing booth helps attract attendees. This space should highlight your expertise, showcasing striking before-after picture panels and a live model of your landscape design if possible. Handing out professionally designed leaflets or brochures at the booth can provide a takeaway reminder of your brand.
Further, engaging with fellow exhibitors, other gardening professionals or home improvement businesses, can open the door to potential collaboration, broadening your professional network and customer reach.
Remember, it's not just about promoting your business, it's about learning too. Attend presentations, seminars or workshops during the event. This can provide valuable industry insights, trends, and inspiration for future projects.
Sponsor Local Community Events
Embracing local communities leads to significant growth. Participating in gatherings, sponsoring events like charity runs or local sports team can have a twofold effect. Not only is the brand visible to those attending, but it also stands as a testament to the commitment to the community.
Here some points to consider:
1. This method allows for a direct connection and communication with potential clients.
2. It sets up a reliable, community-oriented image.
3. Ensure to carry business cards or brochures to hand out to interested parties.
4. Hosting a small booth or exhibit can attract and engage attendees.
5. Providing a small, simple outdoor setup could serve as a live portfolio preview of your work.
Remember, any sort of involvement in community activities reinforces the business's core values, fostering goodwill and credibility.
Email Marketing Newsletter
Crafting engaging newsletters is a stellar way to stay top-of-mind with your client base and spur interest in potential customers. With a service like landscaping, which isn't always required on a routine basis, it's important to remind people you're still available — and a newsletter does the trick.
1. Share valuable content: Whether it's tips to maintain a garden in offseason or the latest in landscaping trends, keep your readers informed and interested.
2. Show your expertise: Discuss interesting cases you've handled, or new techniques you're implementing, to demonstrate your knowledge in the field.
3. Special offers: Use the newsletter as a medium to offer discounts or reveal new services. This could nudge fence-sitting customers to avail your services.
4. Visual appeal: Beautiful images of recent landscape projects would catch any homeowner's eye.
5. Easy contact: Ensure each newsletter contains clear and easy ways to get in touch with you.
Remember, newsletters should be attractive and easy to digest. The goal is to converse with your community regularly, fostering a relationship that transcends pure business transactions.
Offer Referral Bonuses
Utilizing your current customers' networks can be a truly effective marketing strategy. When a client is satisfied with your landscaping work, they are likely to recommend your service to their friends, family, or neighbors. To encourage these recommendations, rewarding referrers with bonuses can be an excellent idea.
This could be in the form of a discount on their next service or even a cash reward. The cost of these bonuses often pales compared to the value of new customers and the potential repeat business they bring. Plus, customers who are personally referred often already have a level of trust in your service because of the person who recommended you.
For a stronger impact, communicate this offer clearly to your clients and ensure the referral process is easy and straightforward.
Radio Commercials
Investing in radio commercials remains an effective method to get your landscaping business on the map. Despite the digital age, many people still listen to the radio during their daily commutes, offering a captive audience for advertisers.
Getting started is a straightforward process: Purchase airtime from a local station that caters to your target demographic. The advertisement itself should be professionally written and produced to project a reputable image.
Treating listeners to a compelling story about a home transformation or educating them briefly about specific landscaping services can pique their interest. Be sure to work in a call to action, urging listeners to call or visit a website for more information.
Adding humor or creating a catchy jingle can further help to keep your company memorable to listeners. Thus, the right radio ads can prove instrumental in elevating your visibility and expanding your customer base.
Business Card Distribution
Business cards are versatile tools that can be utilized in multiple ways. By ensuring they're always on hand, opportunities for distribution can be capitalized upon. Engage potential clients in conversation at all times. During this interaction, subtly introduce your service and hand out your business card.
One might consider presenting them wherever permitted in public spaces. Local businesses such as cafes, libraries, or grocery stores often have a designated area for local services. This expands your reach and allows residents to become familiar with your brand.
Collaborating with complementary industries leads to mutual benefits. Home decor stores, flower shops, or gardening supply businesses may be willing to help distribute your cards to their customers. Build these partnerships and you'll reach a client base that already holds interest in related services.
Remember, consistency in design across all marketing material aids in brand recognition. The design of the card should correlate with your brand's aesthetic and include essential contact information, website, and services offered. Despite its small size, a well-designed business card speaks volumes about the professionalism and preparedness of your landscaping business.
Door Hanger Promotions
At first glance, distributing door hangers might appear to be an outdated marketing strategy. However, it remains a powerful promotional tool due to its simplicity and effectiveness, particularly in the landscaping industry. These physical pieces of advertising allow businesses to reach potential customers in their own homes, literally delivering the service to their doorstep.
1. Cost-effective: With minimal investment, door hanger promotions can be printed and distributed widely. No expensive lists or postage needed.
2. Localized targeting: It's an excellent strategy for advertising to specific neighborhoods or areas where your services may be needed. This method ensures your message is reaching the local audience directly.
3. Creative freedom: Door hangers provide a canvas to showcase your services, seasonal discounts, or special offers. It's possible to use striking visuals, bold colors, or innovative designs to catch homeowners' attention.
4. Intrusive yet polite: Unlike mail, which often goes straight to the bin, door hangers demand attention. They must be physically removed from the door handle, increasing the likelihood that the homeowner will pause and read the information.
5. Measurable results: By introducing a special offer or discount code exclusive to your door hanger campaign, you can easily track the effectiveness of your efforts.
6. High visibility: Meeting your audience where they are – at home – ensures you're heard in a clutter-free environment away from competing advertising noise.
Promote Eco-Friendly Practices
Transitioning to eco-friendly practices not only benefits the environment but also attracts a broader customer base specifically interested in sustainability.
Start by using organic fertilizers and non-toxic insecticides, and emphasize water conservation strategies in your landscape designs.
Utilize composting, rainwater harvesting, and solar-powered equipment whenever possible; these methods not only promote green living but bring uniqueness to your services, solidifying your position in the market.
Educate clients about these practices through blogs, social media, and workshops, as continuous dialogue can boost customer engagement and encourage referrals.
Tailor marketing campaigns around these initiatives to spotlight your brand's commitment to a healthier planet.
By positioning your company as environmentally responsible, you can distinguish your business from competitors and captivate eco-conscious customers.
Remember, sharing your sustainability journey with customers can inspire them to adopt these practices in their daily lives, creating a ripple effect of environmental awareness.
Create a Youtube Channel
Utilizing YouTube effectively can amplify your landscaping brand's reach and engagement significantly. Start by showcasing your projects and let the transformations speak for themselves. Use a time-lapse video of a garden revamp, for instance, which can be powerful content. Handheld or drone footage can work wonders too.
Tutorials are another excellent approach. Share tips on planting, pruning, or seasonal maintenance. Knowledge distribution enhances credibility and assists homeowners who may be potential clients. The idea isn't to give away trade secrets, but to educate on basic skills while emphasizing the advantage of professional services.
Try integrating client testimonial videos, ensuring you have their permission. Let satisfied customers narrate their own positive experiences. Their unrehearsed praises can attract new clients like nothing else.
Remember, YouTube is not just about video content. SEO matters too. Make sure your videos are easy to find with strategic use of keywords in your descriptions and tags. Cross-promotion on other social platforms also ensures a consistent and unified message across all channels.
Engagement on YouTube isn't one-sided. Respond to comments, thank viewers for their time, and use feedback to improve future content. Regularly updated, well-curated content can position your company as a knowledgeable, reliable, and innovative industry leader.
Outdoor Billboards
Harnessing the power of outdoor advertising, popularly known as billboards, can be an impactful strategy in a landscaping business marketing campaign. Strategically positioned, these large-scale ads offer visibility to a broad, diverse audience, making them an excellent tool for reaching potential customers in your local area.
Consider crafting a striking, visually appealing design that reflects the quality of your landscaping work. Use high-resolution images of completed projects or elements of nature that are likely to catch the eye of passersby. Prominent, clear messaging is key – keep it brief and compelling.
Location is paramount for billboard effectiveness. Choosing high-traffic areas, such as highways or busy city streets, maximizes exposure to your ad.
Remember, repetition aids recall. Therefore, investing in multiple billboard placements across your area of service can increase brand recognition and boost lead generation.
Although billboards can be a significant investment, thoughtfully designed and well-placed ads can reap dividends by enhance visibility and generating new business partnerships.
Vehicle Wraps or Decals
A moving billboard continually promoting your landscaping business, a vehicle wrap is an advertising tool that goes wherever you go. Fitted to trucks, vans, or cars, these fastenings are an excellent medium for attracting prospective clients. Simple yet effective, your business name, logo, contact number, and a snappy catchphrase are ideally included.
Clear visibility is paramount. Use bold, contrasting colors for an impactful visual. An engaging image of a lush, well-manicured garden works doubly, showcasing your services and underscoring your brand.
While higher in initial costs, compared to other ad mediums, think long-term. Given the lifespan of a vehicle, this method provides an extensive advertising period. Consider the impressions made on daily commutes, at customer locations, even while parked outside your office. The wide reach offered is indisputable.
For a truly cost-effective solution, decals offer a smaller-scale alternative to vehicle wraps. These stickers can be conveniently placed on any car window, allowing for cheaper, yet equally efficient mobilization of your brand.
Invest wisely in a professional design service for the creation of your wrap or decal. The skillful combination of vibrant graphics and compelling text can be a clincher in driving potential customers to pick up the phone and dial your number. It is one decision likely to provide a handsome return on investment.
Worksite Signage
Capitalizing on the visibility of ongoing projects, signage at the worksite serves as an impactful tool in the landscaping advertising toolkit. Irrespective of the project's size or scale, a well-designed sign can effectively catch the attention of passers-by and spark their interest in your services.
Invest in sturdy yet aesthetically pleasing signage that clearly reflects your brand. Ensure readability from a distance and include essential contact information such as phone number or website. Furthermore, signage should be placed at strategic and high-traffic areas of the worksite, increasing its chances of attracting potential clients.
Consider showcasing a brief message or tagline that succinctly communicates the unique selling points of your landscaping business. Whether it's your commitment to eco-friendly practices or your award-winning design team, this message can elevate the efficacy of your worksite signage.
Remember, while worksite signage is a powerful marketing method in its own right, integrating it with other tactics such as social media campaigns or direct mail flyers, will complement and amplify its impact, setting your landscaping business on the path to growth and success.
Before-and-after Photos
Using visual references, specifically before-and-after shots, is a powerful method to accentuate your landscaping prowess. It showcases the transformation and improvement your services can bring to a garden, park or any space you service – essential visuals for convincing potential clients.
1. Curate a Selection: Choose projects that show your range of skills and vision – from simple garden designs to large scale landscape transformations.
2. Tell a Story: Each set should narrate the journey from an untouched spaces to a beautifully-tailored landscape.
3. High Quality Images: Ensure the photographs are clear, high resolution and taken in good light. Quality is critical in offering a true representation of your work.
4. Update Regularly: Regularly add new transformations to keep your portfolio fresh and demonstrate the breadth of your expertise.
5. Highlight Techniques & Plants Used: Beside each photo series, outline specific techniques or plant species used. This provides additional value and detail for your clients, and showcases your knowledge in your craft.
Remember, potential customers appreciate seeing the tangible evidence of your work and this helps set their expectations. Ultimately, this can be a decisive factor in choosing your services over competitors.
Customer Testimonial Videos
Opting to use customer testimonials in your marketing strategy is a sure way of providing authentic and credible insights about your landscaping business. These customer-generated content pieces work wonders in assuring prospective clients about the quality of your work and customer satisfaction level.
They can be easily captured with a simple smartphone camera and shared on several platforms, from your business website to social media channels.
The effectiveness of these videos can be leveraged in numerous ways. First off, consider showcasing a variety of projects. Diversity in the types of landscapes featured helps prospective clients visualize how their specific needs could be met.
Secondly, ensure the customers featured are genuine and their testimonials real. Their enthusiasm about your landscaping expertise remains pivotal in garnering potential leads.
Lastl*y*, it is also a good idea to guide your clients on what to mention in their testimonials. Aspects like quality of service, punctuality, and professionalism can be highlighted. But remember not to script them entirely, raw and unscripted videos are valued for their authenticity and truthfulness.
Seasonal Deals and Discounts
Capitalizing on the changing seasons is an effective strategy. In the quieter winter months, consider offering discounts for pre-booked spring clean-ups or design consultations. Simultaneously, a summer discount on water-saving, drought-resistant landscapes may resonate with environmentally conscious customers.
Engage customers during the holiday season by providing special deals on outdoor decorations and lighting installations. Additionally, an autumn leaf clearance promotion is sure to keep the business flowing during the fall.
To amplify the reach of these deals, utilize all your advertising platforms from social media to email newsletters. Updating your website regularly with the ongoing offers will also help in attracting potential clients.
Remember, these promotions not only generate immediate business but also aim to establish long-term relationships with customers. Through these seasonal offers, you are showcasing your versatility and commitment to meet their year-round landscaping needs.
Collaborate With Local Nurseries or Home Improvement Stores
Establishing partnerships with local nurseries and home improvement stores can provide lucrative opportunities for marketing. These businesses cater to a similar target audience, thus cross-promoting each other's services can be beneficial for increased visibility and lead generation.
1. Share Flyers: Have your marketing materials, such as flyers and brochures, displayed at these local businesses. This exposure can bring your services to the attention of potential clients.
2. Collaborative Events: Organize gardening workshops or DIY landscaping seminars at these venues. This offers a chance to showcase your expertise and build brand recognition.
3. Referral Program: Design a mutual referral program. When these stores refer a customer to your landscaping service, they receive a bonus or benefit, and vice versa.
4. Joint Offers: Propose joint promotional offers, such as discounts on landscaping services with purchase of plants or materials from their store.
Remember, collaboration is a two-way business strategy, ensure fair and mutual benefits to strengthen such partnerships. The reputation of your landscape business can be significantly improved within the local community through such strategies.